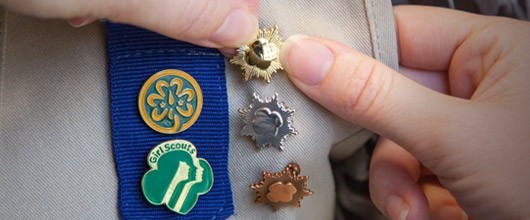 Highest Awards
Every Girl Scout goes above and beyond to make a difference in her community and the greater world. The skills and experiences she gains along the way set her up for special recognition through the Gold, Silver, and Bronze Awards.
All three awards give girls the chance to do big things while supporting issues they care about.
Check these links for important Highest Award Information:
Kudos, world changers!
President Joe Biden has a special message for all Girl Scouts changing the world, including a special note to our 2021 Gold Award Girl Scout class. Download it now, then grab this inspo from globally recognized artist and Gold Award Girl Scout Dana Tanamachi to use as wallpaper for your phone or to hang on your wall.
Download (PDF)
Download (JPG)   
As you earn one of Girl Scouts' highest awards, you'll change your corner of the world—and beyond. The possibilities are endless.