STEM Consortium
Launched in 2015, the Girl Scouts of Orange County STEM Consortium is OC's first collaboration of its kind through which Girl Scouts works with leading STEM companies to bring vital STEM experiences to girls across Orange County.
The inaugural consortium developed Orange County's first Girl Scout STEM Badge-- My STEM Life-- for Girl Scout Cadettes in grades 6-8. View the press release.
This year's STEM Consortium, see logos below for current members, has broadened its impact through creation of a brand new badge for Girl Scout Juniors in grades 4-5 - STEMsational ME! View the press release.




Vision:
Girls in OC embrace STEM educational opportunities, recognizing its importance for their future success.  OC STEM businesses achieve their growth objectives through girls seeing themselves in STEM careers and have the courage and confidence to pursue their dreams. 
Objectives:
Together, the STEM Consortium and the GSOC will bring high quality and diverse STEM program experiences to the nearly 15,000 Girl Scouts in Orange County, demonstrating STEM's relevancy to the girls' interests.  We will provide the support and training necessary for Girl Scout troop leaders and other adult volunteers to deliver these programs within the troop setting. In doing so, we intend to help close the STEM gender gap.
Outcomes:  
Girls are more excited about STEM classes at an early age
Girls believe STEM is for girls
Girls better understand the importance and role of STEM in helping them get into college and obtaining a career they desire
Girls believe they can succeed at STEM
Girls "meet" women in STEM careers and can see themselves in the future
Girls understand how STEM plays a role in what interests them
Girls can connect science and creativity
Girls are curious about STEM and ask questions, enhancing critical thinking and problem solving skills
Girls better understand the relevancy of STEM education to their lives
---

If you are a company or organization interested in becoming a part of the Girl Scouts of Orange County STEM Consortium, please view our STEM Consortium 2022 Donor Packet and contact Wendy Weeks, Corporate and Institutional Giving Director at wweeks@girlscoutsoc.org or 949-461-8843.
---
Union Bank

Western Digital

Blank Rome

Edwards Lifesciences Foundation

International Software Systems

Municipal Water District of Orange County
---
Engineer Spotlight
GSOC's STEM Consortium members inspire us!
Prasanthi Sathyaprakash

Director, Global Operations 
Syntiant Corp. 
Volunteer - Broadcom Foundation
President to the Board of Directors, Orange County Science and Engineering Fair 

A global supply chain operations leader whose passion for engineering and systems development began with playing with Legos as a child, Prasanthi Sathyaprakash began her career in Advanced Micro Devices where she enabled microprocessors that powered some of the world's most advanced super computers. Thereafter, she spent 10 years at Broadcom Corporation steering their international supply chain to the next level. Currently, Prasanthi is the Director of Global Operations at Syntiant Corp. where she is responsible for building exceptional Artificial Intelligence Semiconductor chips. Prasanthi earned her Bachelor's degree in Mechanical Engineering from Pondicherry Engineering College, India and her Master of Science degree in Industrial Engineering from California Polytechnic State University in San Luis Obispo, California.
Prasanthi is an active volunteer in the community, bringing her engineering and coding expertise to classrooms and afterschool programs like the Girl Scouts of Orange County. She is President of the Orange County Science and Engineering Fair, one of the largest science fairs in the nation.
Prasanthi is the mother of teenage girls. She and her husband Neela enjoy visiting the U.S. National Parks (32 out of 63!) and vacationing in the South Pacific. 
In her words, "Hard work, courage of your convictions, sincerity and a positive attitude are the key ingredients to success at home, work or on the go!"
---
STEM Tank for 8th-12th Grade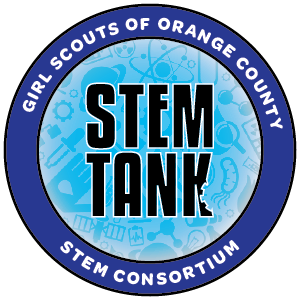 Inspired by the popular TV series Shark Tank, STEM Tank is an innovative and exciting new series designed for 8th – 12th grade Girl Scouts that provides special opportunities for them to be entrepreneurs while exploring STEM and honing their business and presentation skills.  More Information.
STEMsational Me! Badge for Juniors
GSOC's Second Council's Own Badge is exclusively for GSOC Juniors and offers opportunities for girls to find out how science, technology, engineering, and math are a big part of their lives in OC! More information.
My STEM Life Badge for Cadettes
GSOC's First Council's Own Badge is exclusively for GSOC Cadettes and offers opportunities for girls to find out how science, technology, engineering, and math are a big part of their lives in OC! More information.