Green Local News - Two Orange County Girl Scouts were recently recognized on the national stage for their remarkable accomplishments in STEM (Science, Technology, Engineering, and Math) fields. STEM is one of four pillars that form the foundation of the Girl Scout Leadership Experience.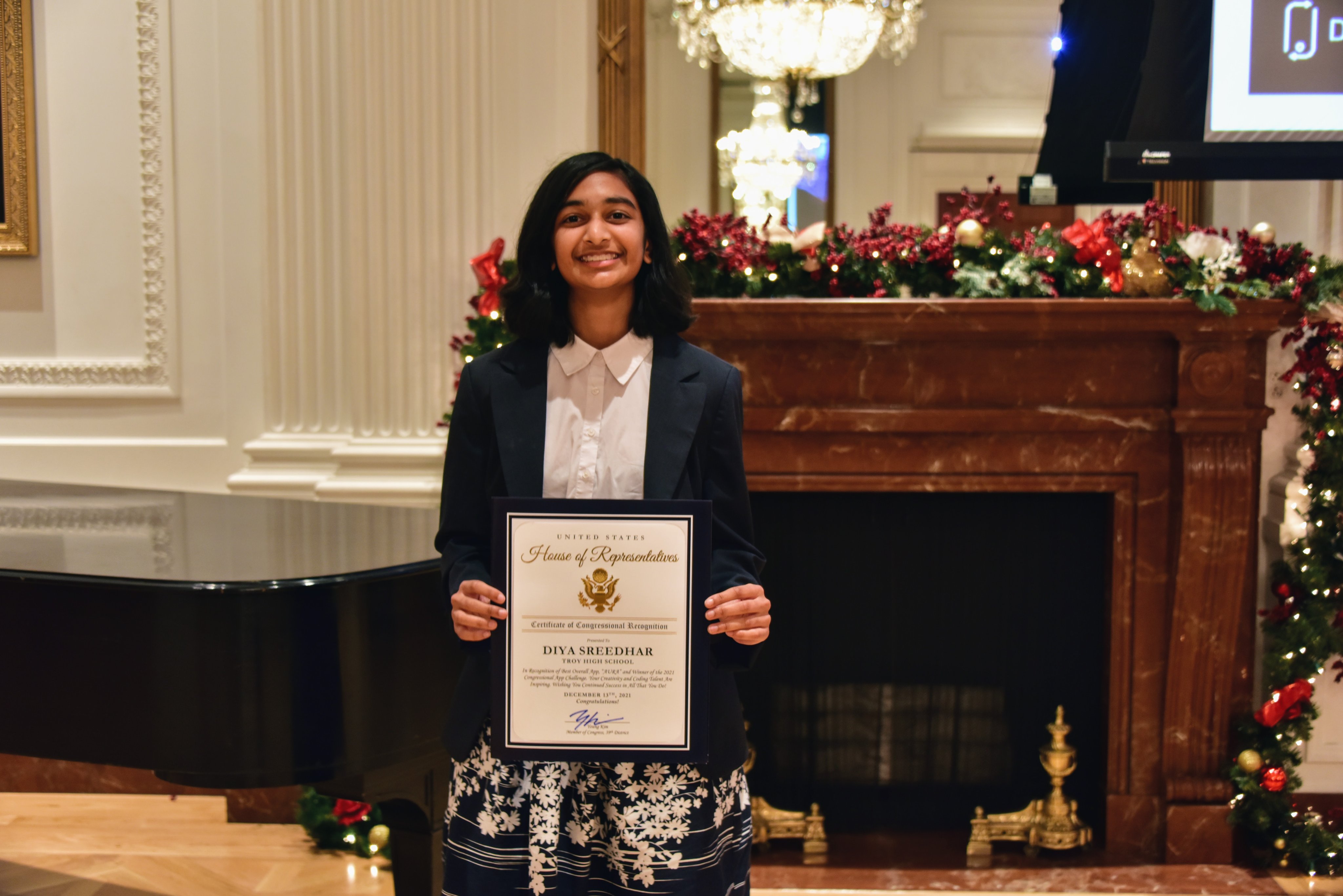 Diya Sreedhar (15) of Irvine won  The Congressional App Challenge for California's 39th District. Established by the U.S. House of Representatives in 2013 to engage student creativity and encourage their participation in STEM, the Congressional App Challenge is the most prestigious prize in student computer science. Members of Congress host district-wide contests for students in middle and high school, who develop computer programs (or apps) written in any programming language, for any platform.
Diya, a freshman at Troy High School in Fullerton and Orange County Girl Scout since elementary school, has participated in and led many STEM activities. After losing a close relative to a brain tumor, Diya, now a Girl Scout Senior, was inspired to provide others with direct access to vital health services by creating the app "AURA," which uses AI machine learning to predict the disease prognosis of Glioblastoma patients. AURA takes in MRI and CT brain scans to access two metrics of disease progression: survival time and Karnofsky Performance Factor. AURA's machine learning was created to be a fast, reliable, and reasonable tool for those who want to track their disease from the comfort of home. It can detect Glioblastoma in its premature stages, potentially saving lives by enabling early initiation of treatment.
The AURA app is set to be displayed in the United States Capitol Building and featured on the House of Representatives' website, House.gov. Diya has also earned an invitation to the #HouseofCode Capitol Hill Reception in Washington, D.C. this May.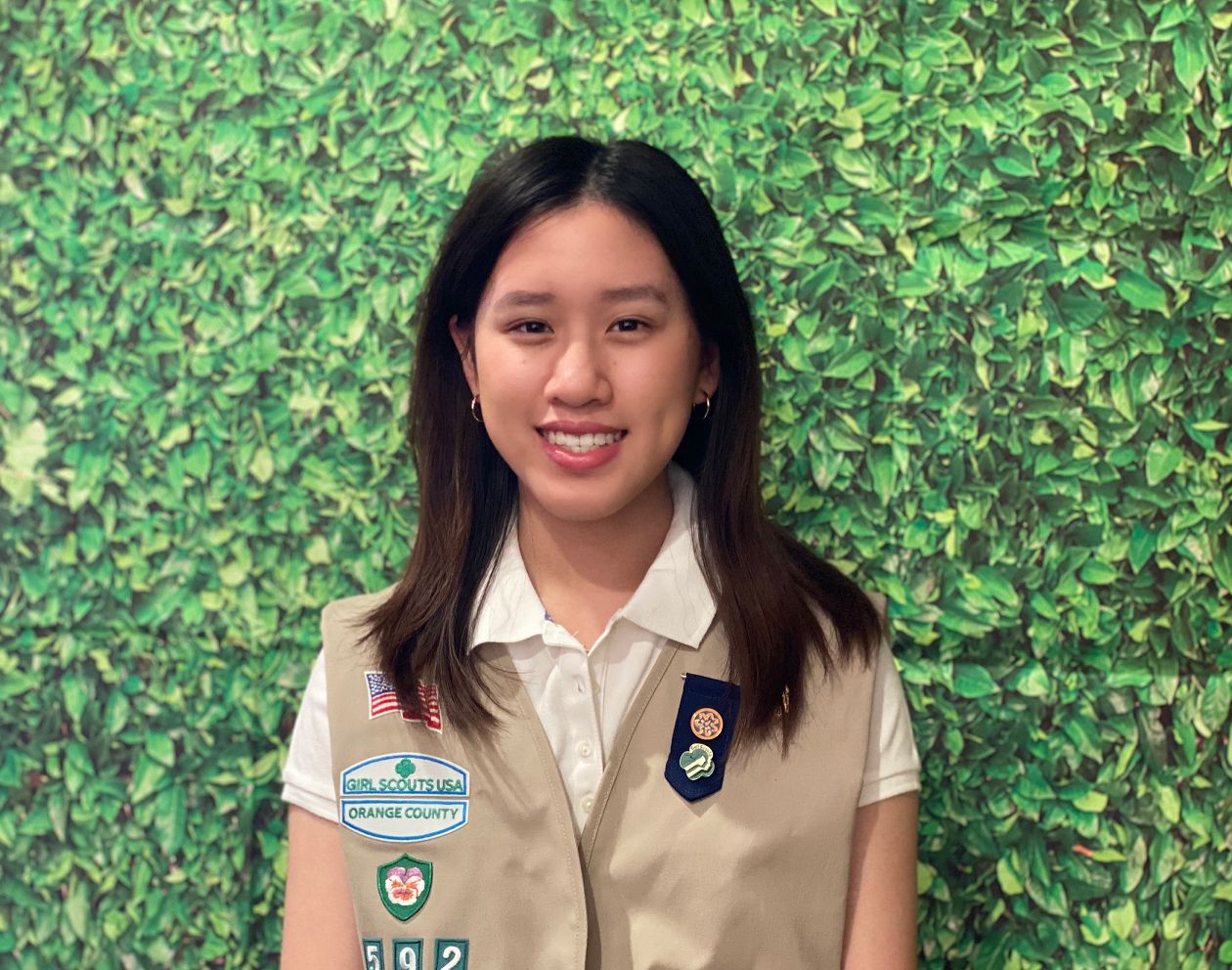 Gold Award Girl Scout Melody Chang (17) of Irvine was chosen among three finalists as winner of the 2021 Dragon Challenge. Since 2015, the Dragon Kim Foundation has awarded numerous $5,000 grants to talented high school students to fund projects that enable them to pursue their passions and impact their communities.
Melody, a high school senior at the Orange County School of the Arts (OCSA) in Santa Ana and Girl Scout Ambassador, designed a Girl Scout Gold Award project, "Let's Learn About Public Health," to expand public health education and understanding of the importance of early detection and prevention among youth. Girl Scout Seniors and Ambassadors earn the Gold Award—the highest award in Girl Scouting—by developing and carrying out sustainable solutions to issues in their communities and beyond.
Melody's project was inspired by personal experience, watching her grandmother suffer from Hepatitis-A, a condition preventable with early detection and health education she lacked in rural Taiwan. Melody published an interactive public health book in English and Spanish for elementary school children, led workshops, and ran a summer camp in partnership with the Santa Ana Unified School District and Girls Scouts of Orange County. Additionally, Melody worked with a team of educators to develop an online curriculum which can be used by teachers across the country.
With the support of the Dragon Kim Foundation grant, Melody plans to expand her project by translating her book into other languages; developing a curriculum to teach her book in elementary school; and advocating at the state level to bring her book and curriculum to more school districts. Learn more at www.letslearnaboutpublichealth.com.
Girl Scouts of Orange County CEO Vikki Shepp shared her excitement about the achievements of these remarkable young women saying, "I am so proud of what Diya and Melody have accomplished! That these incredible young women were able to persevere through a challenging time for students and develop projects that make the world around them a better place is nothing short of extraordinary."
Girl Scouts introduces girls of every age to STEM experiences that are relevant to their everyday life. Whether they're launching rockets, protecting California's natural resources, or creating computer code to solve problems, when girls participate in focused STEM programs, they become more interested in STEM and careers in technology— increasing female representation in STEM and making a brighter future for us all.
----
Girl Scouts of Orange County
We are 25,000 strong – nearly 15,000 girls and 10,000 volunteers and adult members who bring girls' dreams to life and work together to build a better world. Through programs reaching girls in every zip code in Orange County, Girl Scouts of all backgrounds and abilities can be unapologetically themselves as they discover their strengths and rise to meet new challenges—whether they want to climb to the top of a tree or the top of their class, lace up their boots for a hike or advocate for climate justice, or make their first best friends. Backed by trusted adult volunteers, mentors, and thousands of alums, Girl Scouts lead the way as they find their voices and make changes that affect the issues most important to them. To join us, volunteer, reconnect, or donate, visit www.girlscoutsoc.org.