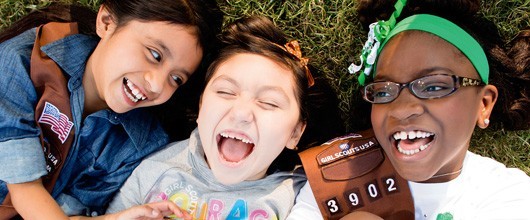 Who We Are
We're 2.5 million strong—more than 1.7 million girls and 750,000 adults who believe in the power of every G.I.R.L. (Go-getter, Innovator, Risk-taker, Leader)™ to change the world.
Our extraordinary journey began more than 100 years ago with the original G.I.R.L., Juliette Gordon "Daisy" Low. On March 12, 1912, in Savannah, Georgia, she organized the very first Girl Scout troop, and every year since, we've honored her vision and legacy, building girls of courage, confidence, and character who make the world a better place.
We're the preeminent leadership development organization for girls. And with programs from coast to coast and across the globe, Girl Scouts offers every girl a chance to practice a lifetime of leadership, adventure, and success. 
Our Mission
Girl Scouting builds girls of courage, confidence, and character, who make the world a better place.


Girl Scout Promise 
On my honor, I will try:
    To serve God and my country,
    To help people at all times, 
    And to live by the Girl Scout Law.
 
Girl Scout Law
I will do my best to be
    honest and fair,
    friendly and helpful,
    considerate and caring, 
    courageous and strong, and
    responsible for what I say and do, 
and to 
    respect myself and others, 
    respect authority,
    use resources wisely,
    make the world a better place, and 
    be a sister to every Girl Scout. 
 
Raise your voice and sing along to the new Girl Scout anthem!
Our powerful new anthem, "Watch Me Shine," explores how Girl Scouts find the strength and confidence to lead the way, every day—and create meaningful change in themselves and in their communities. Written by Grammy Award-winner Liz Rose and performer Emily Shackelton (both Girl Scouts themselves!), the tune also features Girl Scouts on backup vocals.
Download now: iTunes | Amazon | Google Play