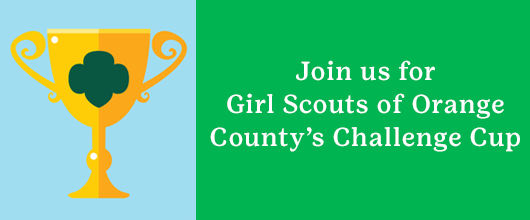 2023 Newport Dunes, Newport Beach
Sunday, August 27, 2023
GIRL SCOUTS OF ORANGE COUNTY CHALLENGE CUP OVERVIEW

2:00 pm – Opening Ceremony and Challenge Cup Start
2:30 pm – Challenge Cup Events
5:30 pm – Luau Reception and Awards Presentation
 

ABOUT GIRL SCOUTS OF ORANGE COUNTY CHALLENGE CUP

This new Girl Scouts of Orange County event is an exclusive experience that captures the spirit of Girl Scouting and adventure. Teams, four adults and one older Girl Scout (Senior/Ambassador, 9th – 12th grade), will compete in an afternoon of fun-filled, Girl Scout inspired challenges based on the four-program pillars (Outdoors, STEM, Life Skills and Entrepreneurship). The afternoon will culminate in a luau buffet and awards presentation.
CHALLENGE CUP TEAMS

The Challenge Cup is designed to provide a philanthropic, team building experience that mimics the time-tested leadership and development journey of our Girl Scouts.  On event day, teams will compete in five rotations consisting of different program-based challenges derived from Girl Scouts' four Program Pillars. Challenge Cup winners are determined by points received for individual challenges and fundraising success.  Complete point structure and fundraising ideas will be provided to teams at time of registration.
FUNDRAISING

Each team (corporate or individuals) pays a $5,000 entry fee to cover event costs and luau dinner. Additionally, each team member sets a goal to raise additional funds from family, friends, and colleagues using our personalized online giving page. The Girl Scout team will help you fundraise with templates, ideas, updates, and support you throughout the process!
EVENT INFORMATION

Adult team members partner with a Girl Scout to rally and compete for the Challenge Cup

Challenge Cup activities include kayaking, paddle boarding, on-the-water scavenger hunt, STEM activities, and challenge puzzles

Luau Dinner and Awards Presentation – join us to celebrate a job well done with an Island feast, entertainment and Challenge Cup presentation
ABOUT GIRL SCOUTS OF ORANGE COUNTY

We are 25,000 strong – nearly 15,000 girls and 10,000 adults who believe in the power of every girl to change the world.  Girl Scouts builds girls of courage, confidence, and character, who make the world a better place.  Preparing girls for a lifetime of leadership, success and adventure, the Girl Scout Leadership Experience offers engaging, challenging, and fun activities that get girls learning by doing, while gaining skills in four program pillars.
Four Program Pillars
STEM – Girl Scouts explore their career interests and develop STEM skills that help them become critical thinkers and address the pressing issues of our time. (Science, Technology, Engineering and Math)
OUTDOORS – Girl Scouts has a long and storied history of getting girls outdoors.  When girls spend quality time outdoors and increase their exposure to nature and adventure, they thrive physically, emotionally, and intellectually.
LIFE SKILLS – Girl Scouts discover what they are passionate about, explore creative solutions that will make a difference, and gain the skills and inspiration to accept challenges, overcome obstacles, and take the lead.
ENTREPRENEURSHIP – Girl Scouts develop an entrepreneurial mindset as they engage in age-appropriate experiences that help them create and pitch a product or service that solves a problem while gaining five skills essential to leadership: goal setting, decision making, money management, people skills, and business ethics.
Challenge Cup Sponsorship and Information Packet

For more information, please contact Addy Lerner: alerner@girlscoutsoc.org or (714) 390-3939 for Team and Event information.