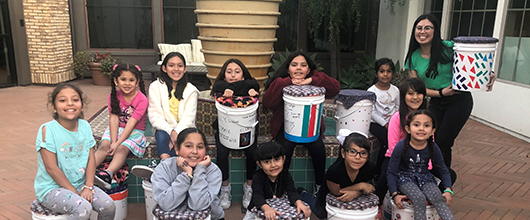 Community Programs
Explore the world of Girl Scouts! 
Girl Scouts of Orange County is here for all girls. We are champions of girl ambition, fueled by an unstoppable drive to remove all barriers, so that all girls, from every social, cultural, economic, intellectual, and developmental sphere, and those with physical limitations, can experience the life changing benefits Girl Scouts provides her to dream big and do bigger. 
What is Girl Scouts? 
Girl Scouts isn't just a moment in her life, it's a movement dedicated to building girls of courage, confidence, and character who make the world a better place.

Why do families – and local communities – love us? 
Girl Scouts is a way of life that brings out the best in girls, even in the most challenging of times. While learning about STEM, the outdoors, entrepreneurship, and important life skills, girls discover new ways to make their family and community stronger, kinder, and better for everyone.

How does it work? 
Groups of Girl Scouts, called troops, typically meet weekly or biweekly for an hour or two. Guided by adult volunteers—often parents and caregivers—girls select exciting hands-on activities and projects, try new things, and cheer each other on. Together, they earn badges to reflect their successes and show the world what they're made of.

What's the goal? 
Making sure girls see and have opportunities to reach their potential isn't just about helping them earn better grades, make better decisions, and lead happier lives (though it helps with those things too!). It's about creating a more fair, equal, and compassionate world where every girl has a seat at the table and can make her dreams come true. 

Financial Aid?
We know families may be financially impacted. We want to make sure you know that you can request assistance with membership dues, uniforms, and camps. 
Learn more about ways to join in the fun, friendship and adventure with Girl Scouts of Orange County:
The Lounge
The Lounge, Girl Scouts of Orange County, is a place where high school Girl Scouts come together with their Girl Scout sisters for socializing, casual conversations, meaningful discussions and fun activities!  Virtual get-together via Zoom.


Juliettes
Girl Scout Juliettes are Girl Scouts who participate as individually registered members instead of with a troop.
Thank you to our 2021 Community Partners
Santa Ana Unified School District's 
Engage 360° program
Anaheim Achieves after school program
Tustin Unified School District's After School Education and Safety Program
Big Brothers Big Sisters of Orange County and the Inland Empire
Boys & Girls Clubs of Garden Grove
Boys & Girls Clubs of Capistrano Valley
Jamboree Housing Corporation
Paul Revere Elementary & OC United Way Women's Philanthropy Fund 
Godinez Fundamental High School & Teen Moms
Girls need the connectivity and sisterhood that Girl Scouts provides for self-expression, discovery, community, and inclusion— now more than ever. Serving all Orange County girls is the North Star that drives us. We are Girl Scouts of Orange County— and we believe that every girl can change the world.