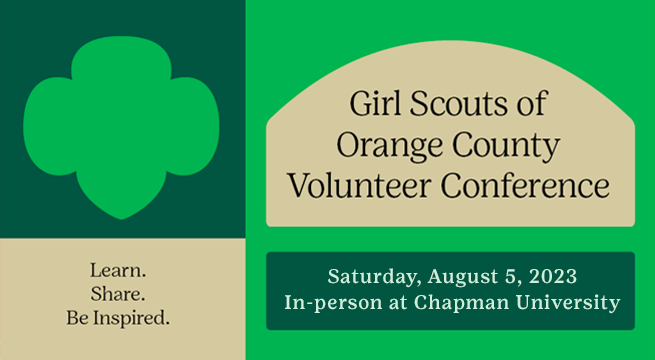 Saturday, August 10, 2019
8:00 AM - 5:00 PM
At Chapman University
in Orange, CA
$20 per person
Join fellow Girl Scouts of Orange County volunteers at the 2019 Volunteer Conference at Chapman University on August 10th. There are over 40 workshops for you to Discover, Connect and Take Action for volunteers working with girls at every Girl Scout level.
During this day of networking and interactive workshops, you'll have opportunities to develop your outdoor skill set (hiking and wilderness survival, anyone?), expand your repertoire of Girl Scout traditions, and learn about the path to Girl Scout Bronze, Silver, and Gold, learn how to assemble a Raspberry Pi Computer, and so much more!
2019 Volunteer Conference Catalog
Pre-Order From the OC Girl Scout Shop for the Volunteer Conference
Go to the  OC Girl Scout Shop website, scroll to the bottom and click the Volunteer Conference Pre-Order banner to order selected shop items ahead of time. Then simply pick up your order at the GSOC Volunteer Conference.



Watch Sylvia's Keynote.

View photos from the incredible day here.
At the 2018 Volunteer Conference GSOC CEO Vikki Shepp asked every GSOC Volunteer to Take the Pledge to be a Girl Scout Champion. More girls need the opportunity Sylvia and other girls have had through Girl Scouts to discover their potential.  Girl Scouts is the only place where girls take center stage, learn self-empowerment, and take action to change the world. 140 volunteers committed to become a Girl Scout Champion and you can, too. Learn more about how you can help girls thrive, including resources, prizes, and thank you gifts you can receive for participating.