2019 Volunteer Conference
Date:
Sat Aug 10, 8:00 AM
- 5:00 PM PST
Registration:
Wed May 01, 12:00 AM
- Sat Aug 10, 12:00 AM PST
Program Type:
Council Event
Category:
Council Event
Level:
Daisy, Brownie, Junior, Cadette, Senior, Ambassador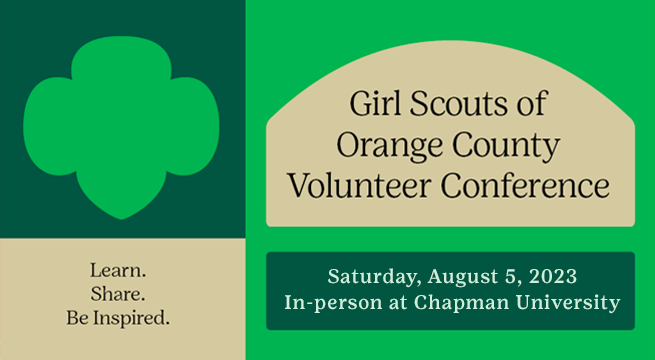 Saturday, August 10, 2019
8:00 a.m. – 5:00 p.m.
At Chapman University in Orange, CA
2019 Volunteer Conference Catalog
$20 per person includes continental breakfast, lunch & parking!
Lunch orders are available until August 4, 2019. Any registrations received after August 4th will not include lunch.
Enjoy 45 workshops, access to community program exhibitors, GSOC Shop, a mock camp site, a fun photo spot, and networking at Cupcakes & Conversation!
View the workshop catalog to learn more about the workshops and presenters.